Are you interested in being a Trustee?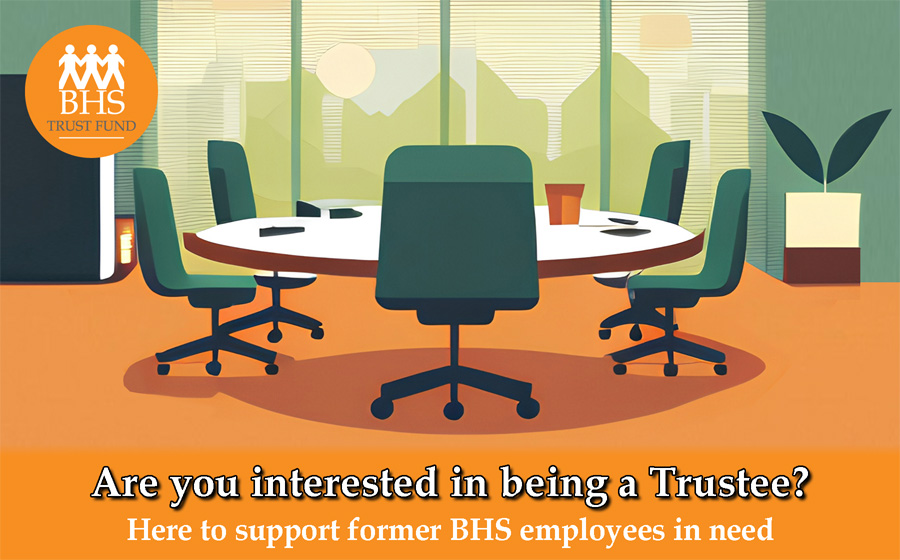 Are you interested in being a Trustee? Join our small Trustee team and help us to help others. Being a Trustee is both enjoyable and rewarding. It's not essential to have worked for BHS but you must be passionate about our support for former BHS employees in need. And you don't need Trustee experience as full training is provided. Please register your interest by Friday 28th July 2023.
Being a Trustee for the BHS Trust Fund
What is a Trustee?
As a Trustee, you're a member of a Trustee Board contributing to the strategic direction of the charity, financial oversight and scrutiny, and ensuring high standards of governance. In addition, specific to the BHS Trust Fund, Trustees assess applications for help from former BHS employees.
Who are we seeking?
Our Trustees are expected to observe the BHS Trust Fund Values. These are teamwork, integrity, professionalism, caring, listening, confidentiality, open-mindedness, respectful.
In our Trustees, we seek individuals with good interpersonal skills and the time and enthusiasm to commit to our charitable aims. It's vital that individuals can understand and empathise with the circumstances of our applicants and are able to exercise good judgement in how we offer support. Confidentiality is key.
The BHS Trust Fund is committed to inclusion and diversity within its team and culture and welcomes applicants from a diverse range of backgrounds and experiences.
How does the role work? 
It's difficult to define typical hours of volunteering  required but around 10-15 hrs per month should be allowed for reviewing applications for support, plus other Trustee responsibilities and meetings.
Meetings are held throughout the year and Trustees are required to attend the majority of these and hopefully all. These typically include 2 online Trustee meetings and 2 in-person Trustee meetings per annum (usually in London) plus 1 Away Day each year.
Expenses are paid for travel and other essential costs resulting from Trustee duties.
How do I apply?
Please Contact Us to confirm your interest and desire to find out more by Friday 28th July 2023. It would be great if you could say a few lines about why you're interested in being a Trustee.  We look forward to hearing from you!
Remember we are here to help – so do get in touch!